Vitagoji - Forever Young
Suitable for all skin types as preventing signs of aging.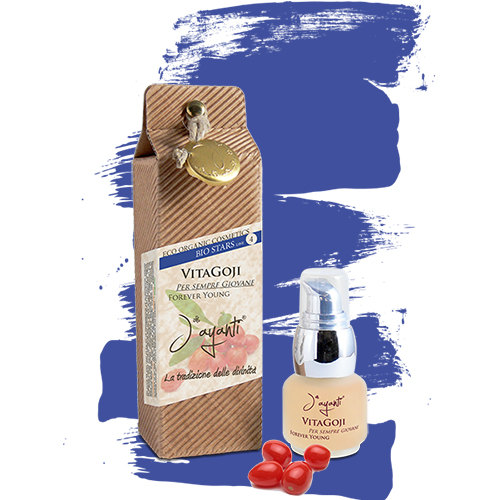 The vitagoji is the 100% organic eternal youth serum, with a high quantity of organic goji 
berries extract and organic baobab oil. 
Goji is known for its extraordinary anti oxidant 
properties and the wealth of vitamins, minerals and carotenoids, so this serum with great 
toning action, also rich in tocopherols, keeps the skin young, bright and smoothing.
Natural active ingredients content are:
Organic goji berries extract - rich in carotenoids, super antioxidant, elasticizing, nourishing.




Organic baobab oil - natural SPF, elasticizing, smoothing, emollient, antioxidant, nourishing.




Organic tocopherols - antioxidant, catalysts, emollient.



Instruction for use:
Apply ONLY a few drops at a time, massaging as described below to obtain best results.
In the morning after cleaning your face with specific tonic for your skin.
In the evening after cleaning your face with cleansing cream and specific tonic for your skin.
Several times during the day if the face is not made up, as protective and invigorating.
Vitagoji is absorbed quickly without leaving any trace of grease, so the trick allows after 
application, so is it possible make up the face after applying it.
Packaging:
Leave a comment