Purifying Serum
Suitable for healthy and normal young skin, skins to be rebalanced, seborrheic, asphyctic and with acne skin.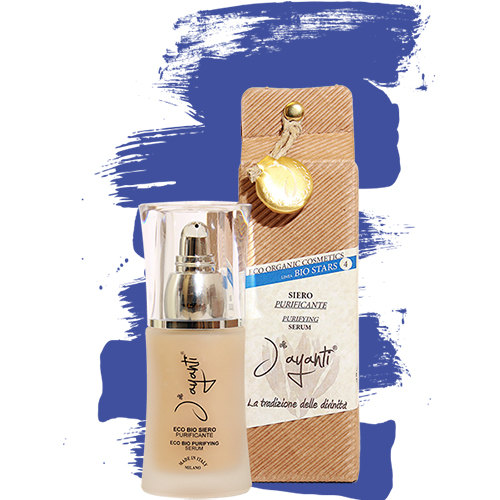 Serum with high percentage of organic aloe vera gel in combination with organic baobab oil, 
algae palmaria palmata and other concentrated vegetable extracts that purify and oxygenate 
the skin thoroughly. It provides an anti-oxidising, anti-aging, anti-inflammatory, soothing, 
regenerating, invigorating, acidifying, pore-tightening and oxygenating action.
Fragrance-free.
Natural active ingredients content are:
Organic aloe vera gel - moisturising, protective, a carrying agent of active ingredients, 

cell regenerating, astringent, acidifies the ph, has cicatrizing properties, soothing.

Organic baobab oil - natural SPF, elasticizing, smoothing, emollient, antioxidant, nourishing.

Triticum vulgare germ extract - natural SPF, elasticizing, smoothing, emollient, 

antioxidant, nourishing.

Tropaeolum majus flower extract - promotes the production of pheomelanin (= clear 

pigments).

Palmaria palmata extract - purifying, smoothing, lightening.



Instruction for use: 
Morning and evening all over the face or on areas affected by spots before
the face cream.
Before the massage or before the final cream in professional treatments.
Packaging:
For sale
For professional use
Leave a comment