Anti-Age Firming Face Lift Serum
Suitable for dull skin and on expression wrinkles.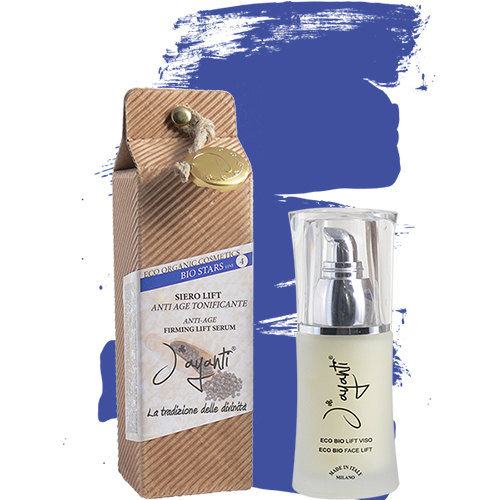 Lift effect serum with toning and filling wrinkles effect.
Thanks to the exceptional Botox-like action of Sichuan pepper extract, combined with argan 
oil firming power and the regeneration one of the aloe vera gel, this serum, from the first 
application, gives smooth, tight, bright and youthful skin.
Apply before the specific cream on individual wrinkles or on the face, neck and décolleté.
Natural active ingredients content are:
Organic Sichuan pepper extract - wrinkle filler- soothing, reduces sensitivity to heat and cold.




Organic aloe vera gel - moisturising, protective, a carrying agent of active ingredients, 

cell regenerating, astringent, acidifies the ph, has cicatrizing properties, soothing.

Organic virgin argan oil - nourishing, antioxidant, improves skin elasticity, emollient, toning, 

cell regenerating, rebalances skin ph, fluidifies sebum, strengthens the skin's immune.
Instruction for use: 
As a carrier and acidifying principle for professional treatments before 
face massage, in place of eco organic aloe vera gel on dull, senescent skin and on expression 
wrinkle.
Before the specific face cream on each wrinkles.
On the face and neck.
It's a great base for makeup.
Packaging:
For sale
For professional use
Leave a comment