Revitalizing Scrub
Suitable for body (all types of skin) and face (aging, senescent, seborrheic, asphyctic and normal skin).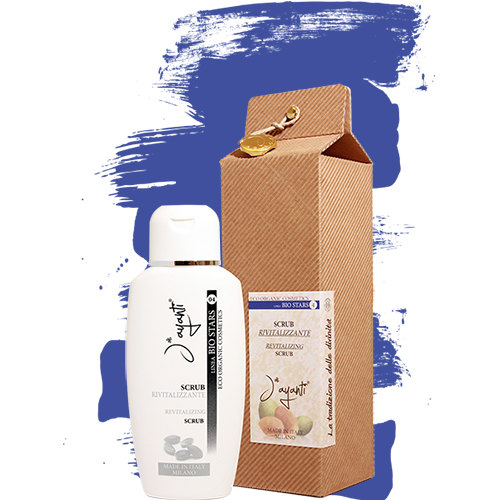 A mechanical scrub with an effective cleansing action, combining almond shell micro-granules 
and organic argan oil to remove dead skin and promote cell turnover, while maintaining skin 
hydration. 
The organic pure aloe vera gel reduces reddening from scrubbing, freshens, soothes 
and helps remove impurities. 
It also provides an anti-oxidising, anti-aging, elasticising and 
invigorating action. 
It smoothes the skin, reducing the appearance of scars and imperfections 
and the depth of wrinkles. 
Suitable for both face and body, it prepares the skin to receive 
beauty treatments.
Natural active ingredients content are:
Organic virgin argan oil - nourishing, antioxidant, improves skin elasticity, emollient, 

toning, cell regenerating, rebalances skin ph, fluidifies sebum, strengthens the skin's immune 

defenses, with sun protection factor (carotenoids).

Organic aloe vera gel - moisturising, protective, a carrying agent of active ingredients, cell 

regenerating, astringent, acidifies the ph, has cicatrizing properties, soothing.

Peppermint extract - refreshing, anti-inflammatory, decongestant.




Ginseng extract - protective, refreshing, redensifying, anti-inflammatory.




Almond shell micro-granules - mechanic exfoliation.



Instruction for use: 
Mixed in small quantities with cleansing cream for the evening cleansing, 
apply with your hands, rub, rinse and follow with a massage or toner vaporization.
Face

: once a week for healthy, dull, seborrheic and mixed skin, twice a week for aging and 

asphyxiated skin. 

Apply by massaging gently on cleansed and toned skin, let the skin absorbed 

the oil, remove the granules with the technique of gommage, concluding with toner and apply 

the cream and face mask to restore the hydration.
Body

: once a week or more frequently if the skin is particularly malnourished and dull; 

once a month for healthy skin.



For professional treatment, apply during massage on wet toned skin and rinse off in the 
shower. 
For home treatment, use it as a cleanser in the shower followed by body cream.
Packaging:
For sale 
For professional use

  500 ml - code 81085

1000 ml - code 81081



Leave a comment