Body Argan Elixir
Suitable for dull and inelastic skin, pregnant women to prevent stretch marks, on all skin types as protective barrier, areas with dermatitis as anti-Inflammatory and coadjuvant in skin reconstruction, excellent care for bedsores.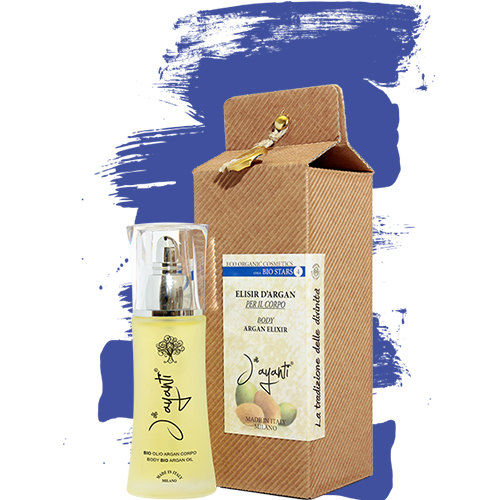 99% pure ANTI-AGE elixir, enriched with a natural-based fragrance. 
Ideal to provide an 
anti-oxidising, restructuring, elasticising, rebalances pH, invigorating action and combat skin 
dehydration.
It provides effective protection from external agents and regular use gives the skin a beautiful 
sheen, protecting it from sunburns.
Natural active ingredients content are:
Organic virgin argan oil - nourishing, antioxidant, improves skin elasticity, emollient, 

toning, cell regenerating, rebalances skin ph, fluidifies sebum, strengthens the skin's immune 

defenses, with sun protection factor (carotenoids).
Instruction for use: 
Daily in home treatment.
Morning and evening on the belly, hips and breast during pregnancy.
Massage until completely absorbed, the pure organic argan oil is absorbed quickly without 
leaving any trace of grease.
To strengthen the nails, add a few drops of oil with the same amount of lemon jiuce (fresh) and 
keep your fingers dipper for about 10 minutes.
To nourishing hair, massage a few drops of oil on the lengths, leave on for 20 minutes, rinse 
with nourishing shampoo.
To obtain a smoothing and rejuvenating bath add 6/7 drops of oil in the water.
Packaging:
For sale

  50 ml - code 41070

100 ml - code 41071



For professional use

250 ml - code 81072

500 ml - code 81075



Leave a comment