Protective Hand Cream
Regenerating, moisturizing and emollient.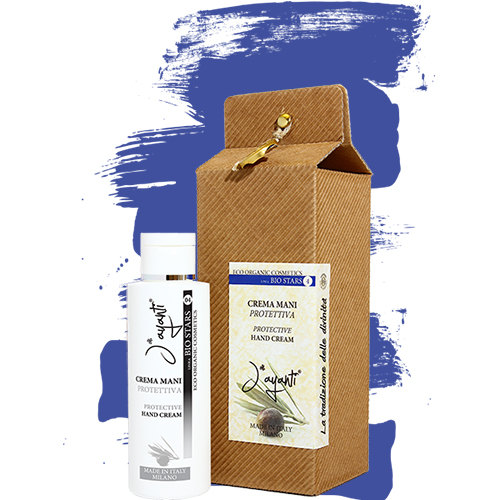 Suitable for healthy tissue, hands malnourished and dehydrated, good for the feet, tissues with dermatitis and strong depletion of the hydro-lipid film in sinergy with eco organic aloe vera gel, tissues with fissures and ulcers in sinergy with eco organic aloe vera gel, very good on the lips.
A hand cream made with organic extra-virgin olive oil, with added soft propolis extract.
The combined effects of these active ingredients make it an ideal anti-oxidising and antiaging
product.
Thanks to olive oil's lightly emollient and sebum-restoring properties, it helps
preserve the skin's hydrolipidic film and provides effective protection from external agents.
An
ideal choice for hands that are constantly exposed to aggressive elements, such as the wind and
the cold, and are highly undernourished.
The Italian raw propolis extract has anti-microbial,
decongestant and skin repair and healing properties.
Natural active ingredients content are:
Organic extra virgin olive oil - nourishing, filmogenic, antioxidant, improves skin

elasticity, toning.

Organic maple syrup - nourishing, cell regenerating, moisturising.




Organic beeswax - filmogenic, antioxidant.




Propolis extract - antioxidant - improves skin elasticity - has cicatrizing properties -

strengthens the immune systems- epithelium repairing action- antimicrobial.
Instruction for use:
Apply to complete each professional treatment.
Daily.
Frequently on damaged tissues (skin irritation).
In cases of strongly aggressive contact with agent (eg. detergent), repeat several applications
until the skin tissue heals.
If the need arises.
Packaging:
50 ml - code 42041

100 ml - code 42040



For professional use

250 ml - code 82042

500 ml - code 82045



Leave a comment