Lightening Face Serum
Suitable for skin with solar, senile and results of acne melanic spots. Photosensitive skin associated with a cream with high SPF. Back of the hand with age spots.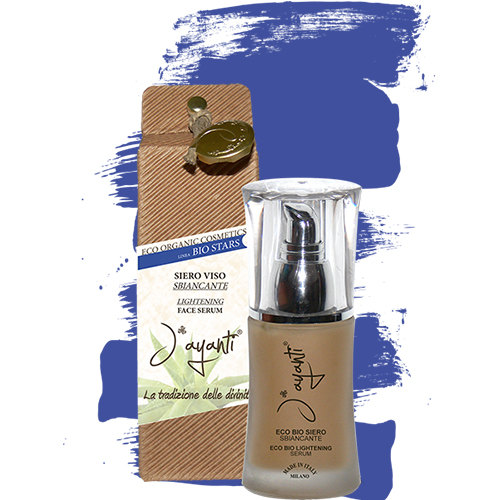 Whitening anti-aging shock serum with a light and refreshing texture which has as active 
ingredients: organic virgin aloe vera gel with dermo acidifying, anti-inflammatory, carriers and 
moisturizers properties and organic baobab oil with elasticizing, nourishing and smoothing 
action. 
Thanks to the synergy of the three ingredients of plant origin, clariskin - dermalite 
– whitonyl, allows to obtain a clear brightening and smoothing effect and the mitigation of 
melanic skin spots on the face and backs of the hands.
Natural active ingredients content are:
Clariskin (extracted from wheat germ) - natural SPF, elasticizing, smoothing, emollient, 

antioxidant, nourishing.

Dermalite (extract from the flower of tropaeolum majus) - promotes the production of 

pheomelanin (= clear pigments).

Whitonyl (extract from red palmaria palmata) - purifying, smoothing, lightening.




Organic aloe vera gel - moisturising, protective, a carrying agent of active ingredients, 

cell regenerating, astringent, acidifies the ph, has cicatrizing properties, soothing.

Organic baobab oil - natural SPF, elasticizing, smoothing, emollient, antioxidant, nourishing.

C vitamin - whitening, invigorating, stimulates the production of collagen.
Instruction for use: 
Morning and evening all over the face or on areas affected by spots before
the face cream avoiding the eye and lip contour.
Morning and evening on the back of the hand before the hand cream.
Before the massage or before the final cream in professional treatments.
Packaging:
For sale
Leave a comment