Restless Legs Cream
Suitable for edematous legs, hot with difficult blood circulation, legs with fragile capillaries, legs with stretch marks and dull tissue, lower limbs with imperfections such as water retention and cellulite.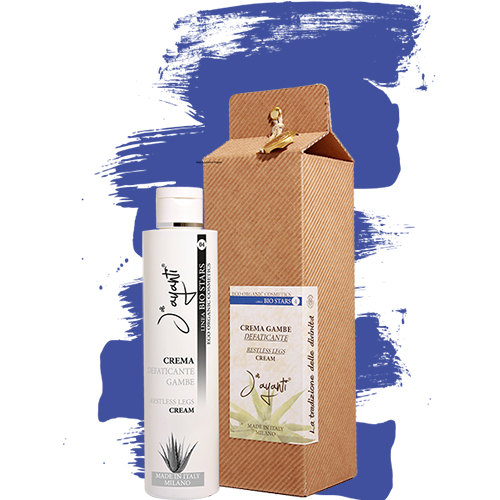 A cream with a high organic aloe vera gel percentage, whose hydrating, protective, 
regenerating, healing and soothing properties are combined with the protective, elasticising 
and repairing properties of olive oil, the draining and capillary-wall reinforcing properties 
of horse chestnut extract, the cleansing properties of burdock extract, the freshening, antiinflammatory 
and decongestant properties of peppermint and spearmint, and the longterm 
refreshing properties of menthol. 
It also provides an important anti-oxidising action.
Formulated to soothe aching and swollen legs and feet, it is especially appropriate during the 
hotter months, as it provides an immediate, intense and prolonged feeling of freshness and 
cooling in the treated area, thanks to the mint extract. 
It can be used to treat oedematous 
cellulite and has a de-reddening and healing effect on stretch marks.
Natural active ingredients content are:
Organic aloe vera gel - moisturising, protective, a carrying agent of active ingredients, 

cell regenerating, astringent, acidifies the ph, has cicatrizing properties, soothing.

Organic extra virgin olive oil - nourishing, filmogenic, antioxidant, improves skin elasticity, 

toning.

Organic shea butter - antioxidant, emollient, with sun protection factor, improves skin 

elasticity, firming.

Natural essence of peppermint - anti-inflammatorym boosts osmosis, purifying.




Natural essence of spearmint - refreshing, anti-inflammatory.




Menthol - refreshing, anti-inflammatory, decongestant.



Instruction for use: 
After exfoliation for professional treatment.
Daily for home treatment.
If the need arises.
Packaging:
For sale
For professional use

250 ml - code 86021

500 ml - code 86022



Leave a comment