Hydrating Feet Cream
Suitable for all tissues, fissures, hot and tired feet, foot with odor problems.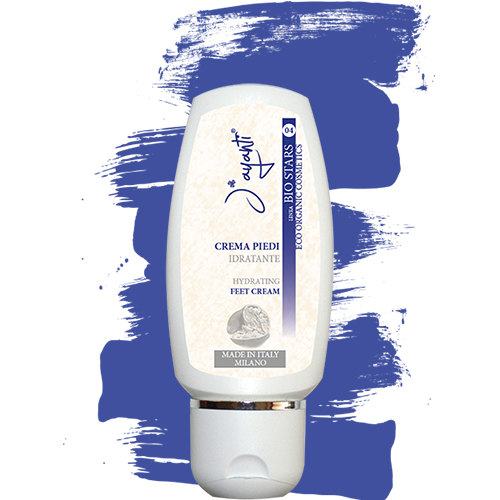 Moisturizer, protective and soothing feet cream made with organic baobab oil, organic shea 
butter, and organic beeswax with hydrating, nourishing and film-forming properties; the 
propolis extract has healing and anti-bacterial action; menthol and essential oil of peppermint 
naturally deodorize and have antiseptic and refreshing action. 
Already from the first uses the 
foot hydrolipidic film is restored and are visible improvements even on dry, with thickening 
feet, fissures and calluses.
Natural active ingredients content are:
Organic shea butter - antioxidant, emollient, with sun protection factor, improves skin 

elasticity, firming.

Organic baobab oil - natural SPF, elasticizing, smoothing, emollient, antioxidant, nourishing.




Organic beeswax - filmogenic, antioxidant.




Propolis extract - antioxidant, improves skin elasticity, has cicatrizing properties, strengthens 

the immune systems, epithelium repairing action, antimicrobial.

Peppermint oil - anti-age, filmogenic, anti-inflammatory, has cicatrizing properties.



Instruction for use: 
One or more times per day as needed with insistence of cracks and fissures.
In foot massage during the pedicure treatment.
In the professional treatment of the feet.
Packaging:
For sale
For professional use

250 ml - code 82047

500 ml - code 82048



Leave a comment