Recovery Serum
Suitable for healthy and normal young skin, seborrheic skin, asphyctic skin, irritated skin, skins to be rebalanced, skin with acne, dehydrated skin, sensitive and with couperose skin exposed capillaries.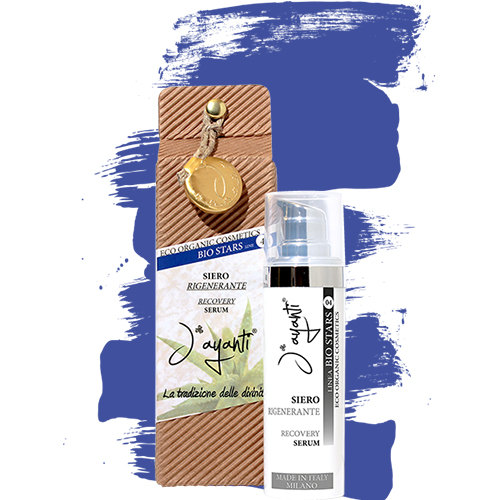 An organic aloe vera gel containing wild-harvested peppermint aqueous extract and vitamin C as
a preservative.
Thanks to its composition, this aloe vera gel is a multi-vitamin and multi-mineral
skin preparation with anti-aging, anti-radical, acidifying, pore-tightening, anti-inflammatory,
soothing, protective and hydrolipidic film re-balancing properties.
It helps maintain the skin's
immune response at a high level and activate skin repair processes, promoting healing.
As it reaches
the deepest layers of the skin, it also has strong oxygenating, cell-regenerating, moisturising,
transmitting and collagen-stimulating effects.
The peppermint oil performs a refreshing and filmforming
action, while increasing anti-inflammatory and skin healing properties.
It can be used as a
transmission medium in ultrasound-based treatments.
Natural active ingredients content are:
Organic aloe vera gel - moisturising, protective, a carrying agent of active ingredients, cell

regenerating, astringent, acidifies the ph, has cicatrizing properties, soothing.

Peppermint oil - anti-age - filmogenic - anti-inflammatory - has cicatrizing properties.



Instruction for use:
All over your face for seborrheic and asphyxiated skin, let it penetrate and
thereafter apply argan face elixir.
All over your face for acneic skin with excess sebum and thereafter apply face argan elixir or
purifying face cream.
Several times a day on inflamed blackheads.
All over your face for dehydrated and alipic skin, let it penetrate and thereafter apply revitalizing
face cream.
Apply on areas with couperose followed by face cream.
For all skin types as a carrier and acidifying principle for professional and home treatments.
On flushed body areas and for professional and home treatments.
A thick layer several times a day on dermatitis, skin irritatated by waxing, redness in general, burns,
let it penetrate and apply nourishing body cream.
Packaging:
For sale
For professional use

100 ml - code 84010

200 ml - code 84111



Leave a comment