Revitalizing face cream
Anti-age, hydriting, anti-wrinkle, revitalizing.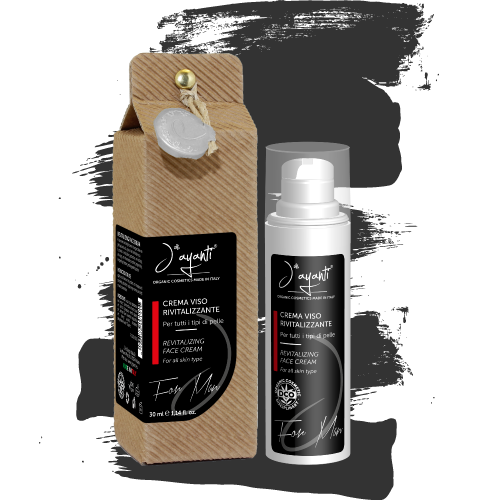 Anti-age, hydriting, anti-wrinkle, revitalizing.
A face cream with a high content of organic aloe vera gel, hyaluronic acid, argan oil and red maple syrup.
It provides a moisturising, protective, anti-oxidising, anti-aging, anti-inflammatory, soothing, regenerating, invigorating, hydrating, and oxygenating action.
Natural active ingredients content are:
Organic aloe vera gel - moisturising, protective, a carrying agent of active ingredients, cell regenerating, astringent, acidifies the ph, has cicatrizing properties, soothing.

Organic virgin argan oil - nourishing, antioxidant, improves skin elasticity, emollient, toning, cell regenerating, rebalances skin ph, fluidifies sebum, strengthens the skin's immune defenses, with sun protection factor (carotenoids).

Organic maple syrup - nourishing, cell regenerating, moisturising.

L/M/HMW Hyaluronic acid - 3 different molecular weights of hyaluronic acid to ensure hydration to all skin layers.

Instruction for use:
apply day and evening on well-cleaned skin.
apply a small amount of product and massage until completely absorbed.
Packaging:
For sale
· 30 ml - code 95020
Leave a comment