Lightening oil
Anti-age, nourishing, anti-wrinkle.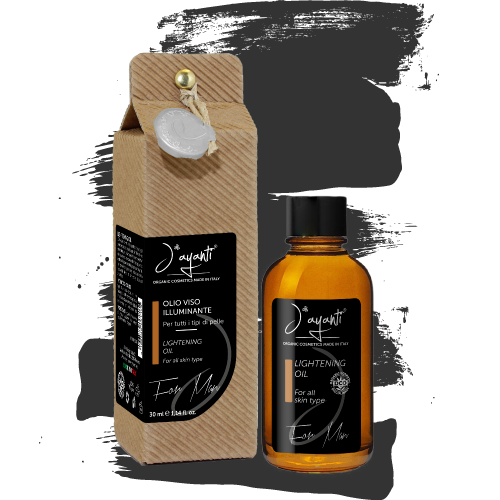 Anti-age, nourishing, anti-wrinkle.
100% organic oil with a high quantity of organic goji berries extract and organic argan oil. Thanks to the extraordinary anti oxidant properties and the wealth of vitamins, minerals and carotenoids of the goji extract and the anti-age and nourishing properties of argan oil, this face oil with great toning action, also rich in tocopherols, keeps the skin young, bright and smooth.
Natural active ingredients content are:
Organic goji berries extract - rich in carotenoids, super antioxidant, elasticizing.

Organic virgin argan oil - nourishing, antioxidant, improves skin elasticity, emollient, toning, cell regenerating, rebalances skin ph, fluidifies sebum, strengthens the skin's immune defenses, with sun protection factor (carotenoids).

Organic Tocopherols - antioxidant, catalysts, emollient.

Instruction for use:
Apply ONLY a few drops at a time, massaging with movements up and out of the face to obtain best results.
Apply day and evening on well-cleaned skin.
Packaging:
For sale
· 30 ml - code 95031
Leave a comment