Hydrating face serum
Moisturizing, regenerating, soothing.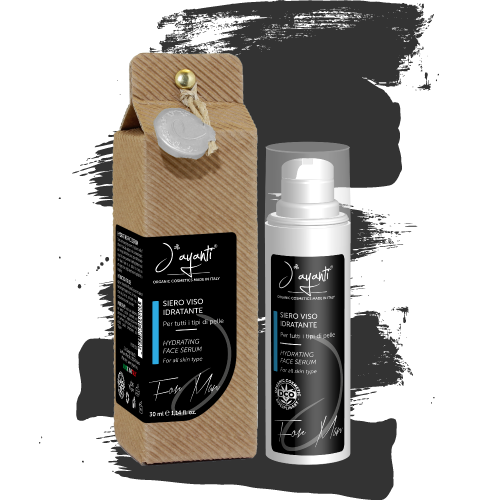 Moisturizing, regenerating, soothing.
Thanks to the very high content of hyaluronic acid of different molecular weights, to the contained organic aloe vera gel and to the carrier action of the maple syrup, this serum guarantees a lasting hydration to all skin layers. Argan oil, in addition to having an anti-aging action, helps keep the skin hydrated for a long time.
Natural active ingredients content are:
L/M/HMW Hyaluronic acid - 3 different molecular weights of hyaluronic acid to ensure hydration to all skin layers.

Organic aloe vera gel - moisturising, protective, a carrying agent of active ingredients, cell regenerating, astringent, acidifies the ph, has cicatrizing properties, soothing.

Organic maple syrup - nourishing, cell regenerating, moisturising.

Organic virgin argan oil - nourishing, antioxidant, improves skin elasticity, emollient, toning, cell regenerating, rebalances skin ph, fluidifies sebum, strengthens the skin's immune defenses, with sun protection factor (carotenoids).

D-panthenol (PRO VIT B5) - a component of collagen, maintains skin elasticity and tonicity.

Instruction for use:
Apply on cleansed skin. Dispense two pumps into palm of hand and gently apply to face. Use twice or more daily. Can be used alone or as a moisture booster under face creams.
Packaging:
For sale
· 30 ml - code 95012
Leave a comment