Anti hair-loss treatment
For problems of weak hair and early fall.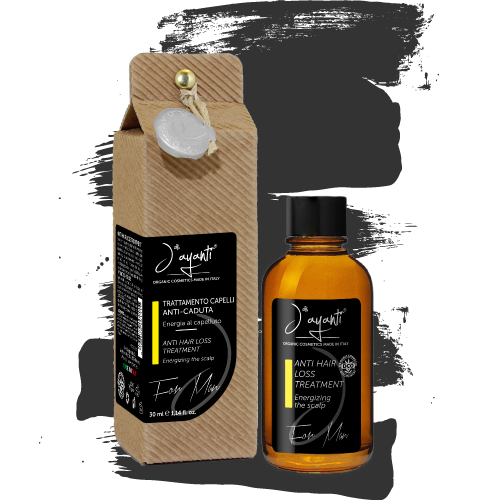 For problems of weak hair and early fall.
Serum with a revitalizing, energizing and strengthening action for the hair bulb.
Thanks to its natural active ingredients, such as horse-chestnut extract, organic maple syrup, sichuan pepper extract, ximenynic acid and aloe vera gel, it prevents hair-loss by re-establishing the normal cycle of hair life.
After only 30 days of treatment the results on the volume and strength of the hair will be visible.
Natural active ingredients content are:
Organic Sichuan pepper extract - relaxing effect on the skin nerves which makes the skin more elastic and soft.

Ximenynic acid - increases capillary resistance and vascular tone, decreases capillary fragility, increases capillary microcirculation and skin health.

Organic aloe vera gel - moisturising, protective, a carrying agent of active ingredients, cell regenerating, astringent, acidifies the ph, has cicatrizing properties, soothing.

Organic maple syrup - nourishing, cell regenerating, moisturising.

Mix of essential oils - revitalizing, sanitizing and detoxifying.

Instruction for use:
Apply directly on moist or dry skin helping the absorption with a light massage. The perceived tingling is due to the activity of the ingredients that increase the blood circulation of the skin.
Usage dose: 6-7 drops; about 1cc per dose.
In the initial phase apply the lotion for 5 days a week; for the maintenance apply the product every other day.
Packaging:

For sale
· 30 ml - code 95095
Leave a comment