Sebum-Regulating Cleansing Cream
Deep cleansing, hydrating and purifying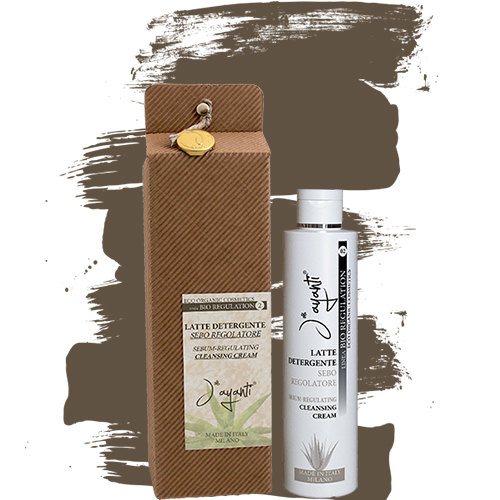 Suitable for healthy and normal young skin, skins to be rebalanced, seborrheic, asphyctic and with acne skin.
A cleansing milk with a high content of organic aloe vera gel, combined with organic extravirgin
olive oil and other organic nourishing active ingredients.
It performs a powerful
cleansing and makeup-removing action, thanks to the saponins contained in the aloe vera
gel, which emulsify oil and grease, and helps maintain skin hydration, thanks to the presence
of extra-virgin olive oil.
It also provides an anti-oxidising, anti-aging, anti-inflammatory,
soothing, regenerating, invigorating, acidifying, oxygenating, emollient and protective action.
Natural active ingredients content are:
Organic aloe vera gel - moisturising, protective, a carrying agent of active ingredients,

cell regenerating, astringent, acidifies the ph, has cicatrizing properties, soothing.

Organic extra virgin olive oil - nourishing, filmogenic, antioxidant, improves skin elasticity,

toning.

Organic maple syrup - nourishing, cell regenerating, moisturising.




Organic shea butter - antioxidant, emollient, with sun protection factor, improves skin

elasticity, firming.
Instruction for use:
For evening face cleansing, massage it with your hands or, if the face is
made up, use cotton pads to remove the make up.
First step for professional and home treatment.
Remove the cream residue with Bio Regulation Acidifying Toner.
Packaging:
For sale
For professional use

500 ml - code 84055

1000 ml - code 84051



Leave a comment