Impure Skin Face Lotion
Light lotion for frequent use, ideal to balance the skin sebum.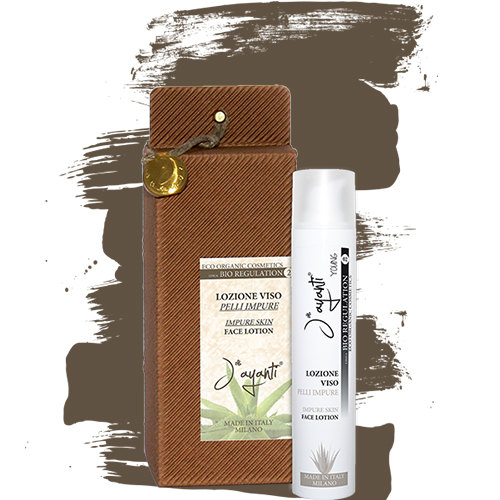 Suitable for healthy and normal young skin, skins to be rebalanced, seborrheic, asphyctic and with acne skin.
Fluid, light and fresh lotion with guar gum like thickener.
High percentage of organic aloe vera gel in combination with maple syrup and tocopherols, has healing, soothing, antiinflammatory and antioxidant properties; it's dermo acidifying because it balances the PH, hydrating and astringent; organic extravirgin olive oil has protective and sebum restoring
properties.
Natural active ingredients content are:
Organic aloe vera gel - moisturising, protective, a carrying agent of active ingredients, cell regenerating, astringent, acidifies the ph, has cicatrizing properties, soothing.
Organic extra virgin olive oil - nourishing, filmogenic, antioxidant, improves skin elasticity, toning.
Modified guar gum - emollient.

Organic maple syrup - nourishing, cell regenerating, moisturising.

Instruction for use:
After the application of Bio Regulation Acidifying Toner in the morning.
After the face cleansing in the evening (after any face cleansing during the day).
It's an excellent base for makeup.
Packaging:
For sale
Leave a comment