Purifying Face Mask
Deep shock treatment for impure, seborrheic and with acne skin.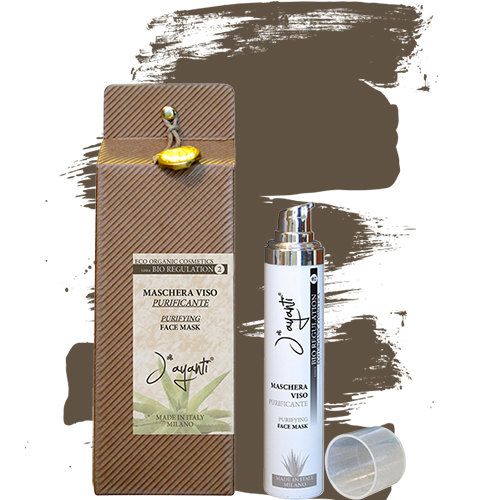 Suitable for healthy and normal young skin, skins to be rebalanced, seborrheic, asphyctic and with acne skin.
A mask with a high aloe vera gel and pink clay percentage, combining the many beneficial
properties of aloe vera with the detoxing and cleansing properties of clay.
It cleanses and
oxygenates the skin deeply and provides an anti-aging, highly anti-inflammatory, healing and
regenerating action.
It smoothes, regenerates, freshens and invigorates the skin.
The gel is
absorbed into the skin within a few minutes from application.
The mask must be removed once
the clay has dried (10 minutes approx.).
In order to avoid having to scrub hard, especially in
the presence of inflamed spots, it is first advisable to atomise aloe-based acidifying toner or use
a soaked voile cloth to wet the face.
Natural active ingredients content are:
Organic aloe vera gel - moisturising, protective, a carrying agent of active ingredients,

cell regenerating, astringent, acidifies the ph, has cicatrizing properties, soothing.

Natural pink clay - detoxifying, purifying, toning, remineralizing.



Instruction for use:
Once or twice a week for professional and home treatments.
Apply a layer of mask evenly distributing it (avoid on the eyelids and lips) on cleansed skin
leaving for 10 minutes, remove residues with cotton pads and toner.
Packaging:
For sale
For professional use

250 ml - code 84062

500 ml - code 84065



Leave a comment