Purifying Face Cream
Sebum regulating. Anti acne and anti impure-skin daily treatment.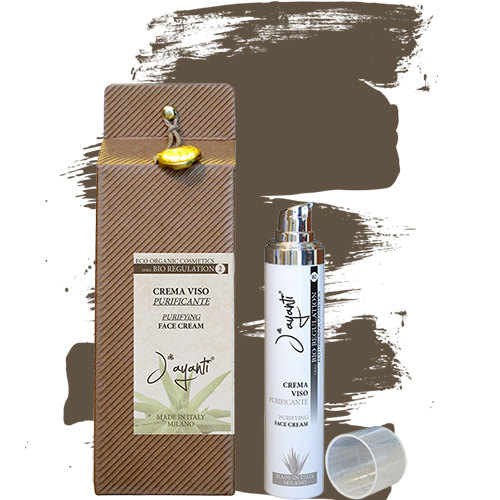 Suitable for healthy and normal young skin, skins to be rebalanced, seborrheic, asphyctic and with acne skin.
A face cream with a high content of organic aloe vera gel, combined with organic extravirgin
olive oil, organic beeswax, red maple syrup and other natural nourishing ingredients.
It provides a moisturising, protective, anti-oxidising, anti-aging, anti-inflammatory, soothing,
regenerating, invigorating, acidifying, pore-tightening and oxygenating action.
Natural active ingredients content are:
Organic aloe vera gel - moisturising, protective, a carrying agent of active ingredients,

cell regenerating, astringent, acidifies the ph, has cicatrizing properties, soothing.

Organic extra virgin olive oil - nourishing, filmogenic, antioxidant, improves skin elasticity,

toning.

Organic maple syrup - nourishing, cell regenerating, moisturising.




Organic beeswax - filmogenic, antioxidant.



Instruction for use:
After the application of Bio Regulation Acidifying Toner in the morning.
After the face cleansing in the evening (after any face cleansing during the day).
As a massage and finishing cream for professional and home treatments.
It's an excellent base for makeup.
Packaging:
For sale
For professional use

250 ml - code 84042

500 ml - code 84045



Leave a comment