Acidifying Toner
Soothing, slightly astringent and active principles carrier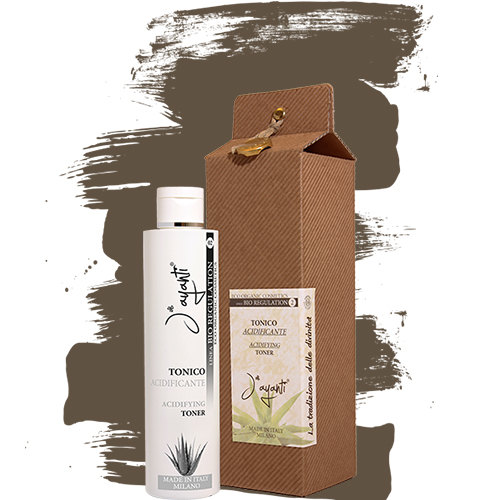 Suitable for healthy and normal young skin, skins to be rebalanced, seborrheic, asphyctic and with acne skin.
A tonic lotion made with organic aloe vera gel, red maple syrup and hydrolysed rice proteins.
It completes the cleansing routine, rebalances skin pH, acidifies the skin, promotes the
absorption of active ingredients and prepares the skin to receive treatments.
It provides a poretightening,
soothing, anti-oxidising, anti-inflammatory, moisturising, cell-regenerating and
oxygenating action.
Natural active ingredients content are:
Organic aloe vera gel - moisturising, protective, a carrying agent of active ingredients,

cell regenerating, astringent, acidifies the ph, has cicatrizing properties, soothing.

Organic maple syrup - nourishing, cell regenerating, moisturising.




Hydrolyzed rice proteins - moisturising.



Instruction for use:
A few drops on a cotton pad and massage gently over face before applying
face cream to complete the cleansing made with cleansing cream.
Spraying on the face or on sensitive and irritated areas several times during the day if the face
is not made up.
To remove the scrub and face mask for professional and home treatments, always with cotton
pads.
On the scalp as nourishing, detangling and softening agent;it regenerates and protects the hair
bulb.
Packaging:
For sale
For professional use

500 ml - code 84075

1000 ml - code 84071



Leave a comment