Bath And Shampoo Delicate Cream
Cream studied for the daily baby bath, soft and moisturising.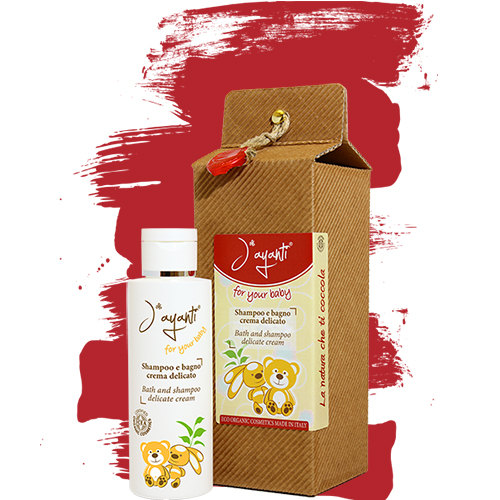 Suitable for all types of hair, all skin types, even the most sensitive skin.
Cream studied for the daily baby bath that, thanks to organic virgin argan oil, Ginseng 
and Peppermint extracts, gently cleans hair, face and body of your baby, leaving them soft, 
moisturized and fresh. 
This no tears cream respects the normal skin physiological balance of 
the child.
Natural active ingredients content are:
Organic virgin argan oil - nourishing, antioxidant, improves skin elasticity, emollient, 

toning, cell regenerating, rebalances skin ph, fluidifies sebum, strengthens the skin's immune 

defenses, with sun protection factor (carotenoids).

Peppermint extract - refreshing, anti-inflammatory, decongestant.




D-panthenol - moisturing, emollient, soothing.




Ginseng extract - protective, refreshing, redensifying, anti-inflammatory.



Instruction for use: 
Use it at daily bath or shower, to cleans diaper area and every part of body 
during the day.
Use it since the birth.
This product doesn't produce foam because contents non-aggressive cleansing agents, so it is 
recommended to use a sponge to avoid wastage.
Packaging:
For sale
Leave a comment