SWOLLEN AND HEAVY BODY AND LEGS HEALING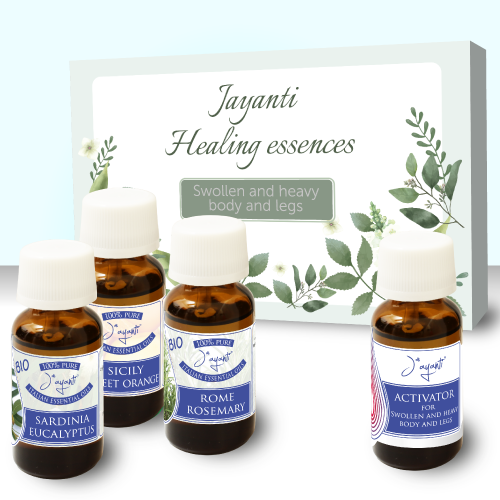 Content
:
10ML ROME ROSEMARY PURE E.O.
10ML SICILY SWEET ORANGE PURE E.O.
10ML SARDINIA EUCALYPTUS PURE E.O.
10ML ACTIVATOR
Features:
These essential oils actively stimulate the circulation, give immediate relief and have tangible benefits over time, return tone to the capillaries and blood vessels, helping to drain excess fluids and then restore the correct appearance to body and legs.
How to use:
1) dilute 5 drops of each essential oil contained in the kit + 5 drops of activactor in 50 ml of Jayanti carrier oil or Jayanti 2in1 Body cream and perform a draining massage on the affected part with vigorous and enveloping movements from the bottom to the top for 15/20 minutes.
2) pour 2/4 drops of the contents of each bottle of the kit into a basin containing cold water and a handful of coarse salt and soak your feet, and leave them to soak for 10/15 minutes.
5) It is recommended to alternate the use of this kit with the jayanti restless legs cream.
Packaging:
Leave a comment