LIVER PURIFICATION HEALING KIT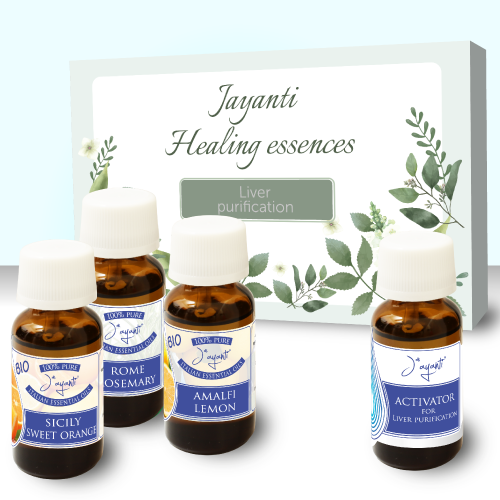 Content
:
10ML ROME ROSEMARY PURE E.O.
10ML SICILY SWEET ORANGE PURE E.O.
10ML AMALFI LEMON PURE E.O.
10ML ACTIVATOR
Features:
Often, problems of poor digestion, nausea, fatigue and weakness and pains in the upper part of the abdomen are symptoms of a liver to purify, topical applications and warm baths that transmit, through the osmosis between water and skin, the detoxifying principles of these oils essential, can help purify and rebalance the liver.
How to use:
1) dilute 5 drops of each essential oil contained in the kit + 5 drops of activactorin 50 ml of Jayanti carrier oil or Jayanti 2in1 Body cream and lightly massage in the liver area with an open hand and slow and deep circulatory movements (clockwise) for 5 minutes, 1 time a day.
2) pour 2/4 drops of the contents of each bottle of the kit into the bathtub filled with warm water, add a pound of coarse salt and take a relaxing bath (it is recommended to do this bath every night for at least one month: liver activity will be facilitated, blood will be purified and digestion will be better
Packaging:
Leave a comment