ANTISTRESS HEALING KIT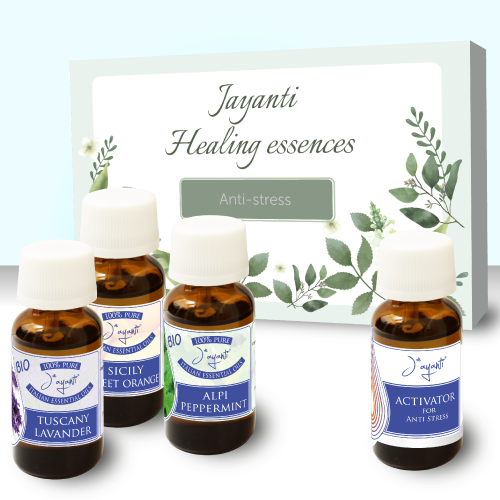 Content
:
10ML TUSCANY LAVANDER PURE E.O.
10ML ALPI PEPPERMINT PURE E.O.
10ML SICILY SWEET ORANGE PURE E.O.
10ML ACTIVATOR
Features:
The synergistic use of these essential oils strengthens the vitality, tones the nervous system, it is therefore recommended in cases of anxiety, tension, stress, fatigue, agitation and psychosomatic problems, it is also recommended in the case of high blood pressure, palpitations, against depression and nervous breakdowns.
How to use:
1) dilute 5 drops of each essential oil contained in the kit + 5 drops of activactor in 50 ml of Jayanti carrier oil and make a relaxing massage on the whole body.
2) pour 3/5 drops of the contents of each bottle of the kit and 300/500 ml of water in a ultrasonic diffuser for essential oils, lie down, relax and inhale the essential oils dispersed in the environment.
3) pour 2/4 drops of the contents of each bottle of the kit in the bathtub with hot water and take a relaxing bath with soft lighting and soft music in the background.
Packaging:
Leave a comment