Illuminating & moisturizer hydrosol mix
Illuminating, soothing and moisturizing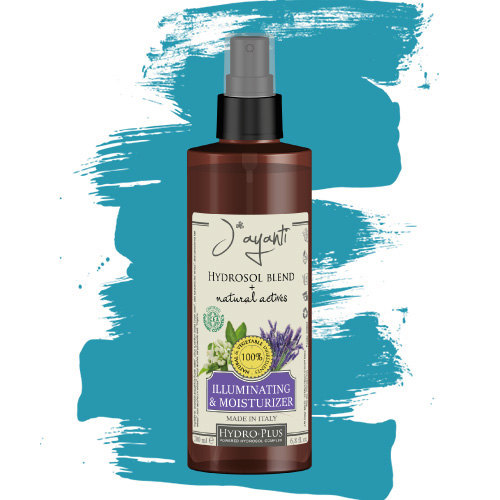 Suitable for all skin type as toner, for very dry and dull skin as moisturizing and illuminating daily treatment.
Hydrosol-mix with a wonderful natural parfume that thanks to organic ingredients content as hydrosols of neroli(orange blossoms) and lavander, maple syrup, aloe vera gel and olive leaves extract, moisturizes in deeper the skin making it brighter and younger.
Natural active ingredients content are:
Organic lavander hydrosol - relaxing, illuminating and moisturizing.
Organic neroli hydrosol - soothing, refreshing and moisturizing.
Olive leaves organic extract - antioxidant, astringent, slightly antiseptic, restore sebum balance, cell regenerating, soothing, moisturising, with sun protection factor.
Organic aloe vera gel - moisturising, protective, a carrying agent of active ingredients, cell regenerating, astringent, acidifies the ph, has cicatrizing properties, soothing.

Organic maple syrup - nourishing, cell regenerating, moisturising.
Instruction for use:
Spray on a well cleansed face as a toner, then you can apply the face cream to damp skin..
Packaging:
For sale
· 200 ml - code 49993
Leave a comment