Hydrating cleansing cream
Deep cleansing and hydratation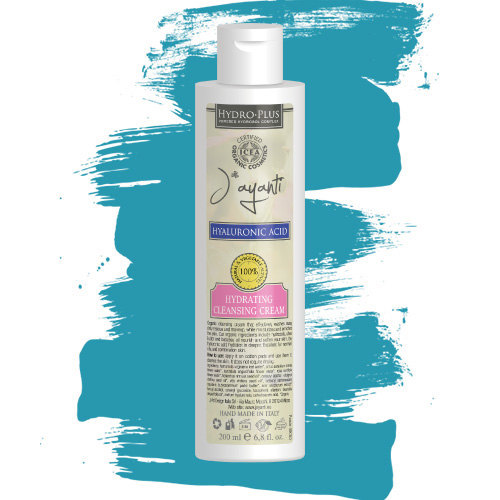 Suitable for all skin type, to rebalanced very dry skin, for oily and combination skin.
Organic cleansing cream that effectively washes away daily residue and makeup, while moisturizes and enriches the skin. Our organic ingredients included hydrosols, shea butter and babassu oil nourish and soften your skin, the hyaluronic acid hydrates in deeper.
Natural active ingredients content are:
L/M/HMW Hyaluronic acid - 3 different molecular weights of hyaluronic acid to ensure hydration to all skin layers.
Organic rose hydrosol - soothing, anti age and moisturizing.
Organic lavander hydrosol - relaxing, illuminating and moisturizing.
Organic witch Hazel hydrosol - purifying, astringent, decongestant.
Organic neroli hydrosol - soothing, refreshing and moisturizing.
Organic maple syrup - nourishing, cell regenerating, moisturising.
Organic grapeseed oil - antioxidant, soothing, firming.
Organic shea butter - antioxidant, emollient, with sun protection factor, improves skin elasticity, firming.
Organic babassù oil - antioxidant, desactivators of free radicals.
Allantoin - moisturizer and keratin producer.

Tocopherols - antioxidant, catalysts, emollient.
Instruction for use:
for evening face cleansing, massage it with your hands or, if the face is made ??up, use it on cotton pads to remove the make up.
Packaging:
For sale
· 200 ml - code 49050
Leave a comment