Hydrating face mask
Deep hydration and nourishment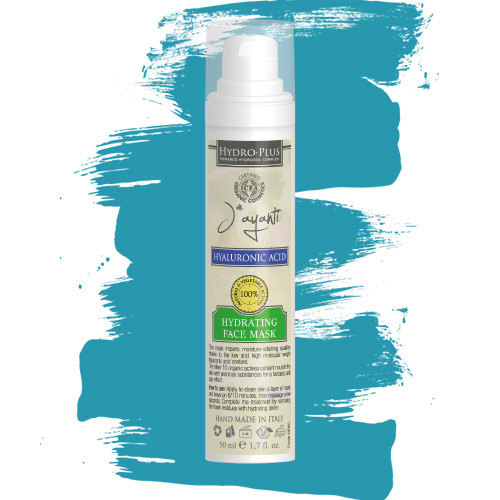 Suitable for all skin type, to rebalanced very dry skin, for oily and combination skin.
This mask imparts moisture-retaining qualities thanks to the low and high hyaluronic acid molecolar weight content. The other 10 organic actives content nourish the skin with precious substances for a fantastic anti age effect..
Natural active ingredients content are:
L/M/HMW Hyaluronic acid - 3 different molecular weights of hyaluronic acid to ensure hydration to all skin layers.
Organic rose hydrosol - soothing, anti age and moisturizing.
Organic lavander hydrosol - relaxing, illuminating and moisturizing.
Organic witch Hazel hydrosol - purifying, astringent, decongestant.
Organic neroli hydrosol - soothing, refreshing and moisturizing.
Organic virgin argan oil - nourishing, antioxidant, improves skin elasticity, emollient, toning, cell regenerating, rebalances skin ph, fluidifies sebum, strengthens the skin's immune defenses, with sun protection factor (carotenoids).
Organic maple syrup - nourishing, cell regenerating, moisturising.
Organic grapeseed oil - antioxidant, soothing, firming.
Organic babassù oil - antioxidant, desactivators of free radicals.

Organic beeswax - filmogenic, antioxidant.
Instruction for use:
to clean skin apply a layer of mask and leave on 8/10 minutes, then massage a few seconds. Complete the treatment by removing the mask residues with hydrating toner.
Packaging:
For sale
· 200 ml - code 49060
Leave a comment