Hydrating toner
Super high hydratation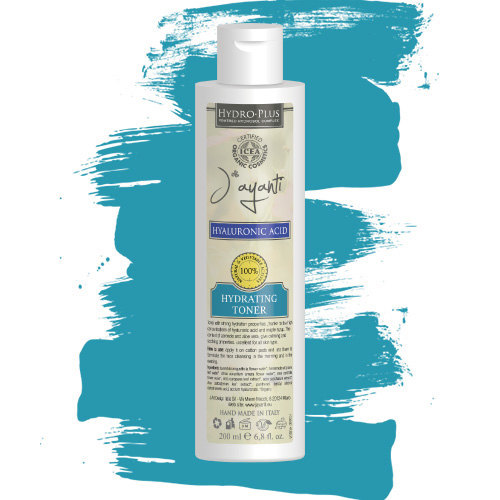 Suitable for all skin type, to rebalanced very dry skin.
Toner with strong hydration properties ,thanks to the high concentrations of hyaluronic acid and maple syrup. The content of hydosols and aloe vera, give calming and soothing properties.
Natural active ingredients content are:
L/M/HMW Hyaluronic acid - 3 different molecular weights of hyaluronic acid to ensure hydration to all skin layers.
Organic rose hydrosol - soothing, anti age and moisturizing.
Organic lavander hydrosol - relaxing, illuminating and moisturizing.
Organic witch Hazel hydrosol - purifying, astringent, decongestant.
Organic neroli hydrosol - soothing, refreshing and moisturizing.
Organic aloe vera gel - moisturising, protective, a carrying agent of active ingredients, cell regenerating, astringent, acidifies the ph, has cicatrizing properties, soothing.
Olive leaves organic extract - antioxidant, astringent, slightly antiseptic, restore sebum balance, cell regenerating, soothing, moisturising, with sun protection factor.
Organic maple syrup - nourishing, cell regenerating, moisturising.

D-panthenol (PRO VIT B5) - a component of collagen, maintains skin elasticity and tonicity.
Instruction for use:
Few drops on cotton pads and massage gently your face before applying face cream to complete the cleaning made with cleansing cream. Spraying on the face or on dry irritated areas several times during the day.
Packaging:
For sale
· 200 ml - code 49091
Leave a comment