Anti-Age Face Mask
Deep nourishment and hydration.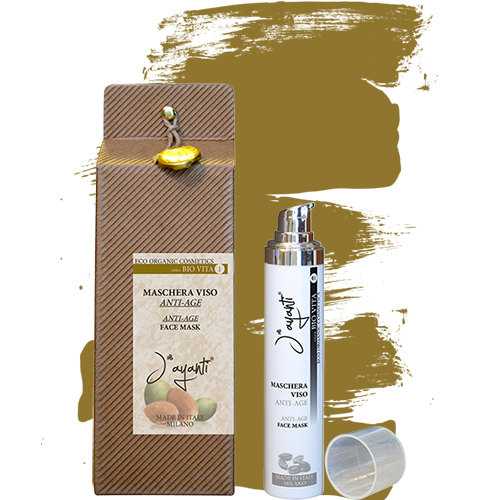 Suitable for healthy and mature, neglected and dull skin.
A mask with a high content of organic argan oil, combined with other natural nourishingingredients, making it ideal to provide an anti-oxidising, anti-aging, moisturising, restructuring, elasticising and invigorating action.
It protects the skin from external agents, prevents and cures skin imperfections and rebalances pH.
Thanks to its organic shea butter content, it can be left on for about 10 minutes, after which it will have been almost entirely absorbed.
In case of particularly undernourished skin, it can be left on the skin, as a cream, after massaging it in to complete absorption.
Natural active ingredients content are:
Organic virgin argan oil - nourishing, antioxidant, improves skin elasticity, emollient, toning, cell regenerating, rebalances skin ph, fluidifies sebum, strengthens the skin's immune defenses, with sun protection factor (carotenoids).
Horse chestnut extract - anti-inflammatory, strengthens capillary vessel walls, firming, boosts osmosis, improves skin elasticity.
Organic shea butter - antioxidant, emollient, with sun protection factor, improves skin elasticity, firming.
Organic beeswax - filmogenic, antioxidant.

Instruction for use:
Once or twice a week at home and for professional treatments.
Apply a layer of mask evenly distributing it (even on the eyelids and lips) on cleansed skin and after any exfoliation, leaving for 10 minutes, massage to complete the absorption and remove residues with cotton pads and toner if necessary.
Packaging:
For professional use

250 ml - code 81062
500 ml - code 81065

Leave a comment