Anti-Age Face Cream
Moisturising, restructuring, elasticising.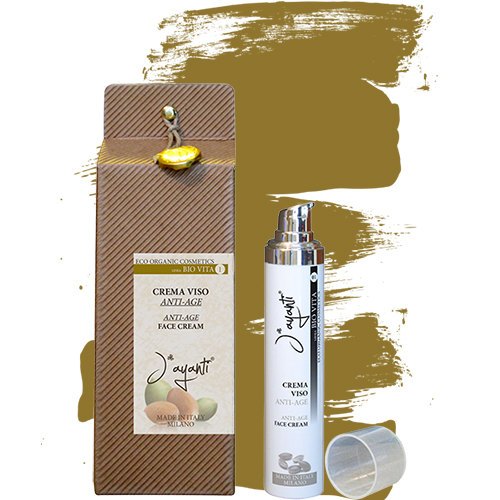 Suitable for healthy and mature, neglected and dull skin.
A face cream with a high content of organic argan oil, combined with other natural
nourishing ingredients, making it ideal to provide an anti-oxidising, anti-aging, moisturising,
restructuring, elasticising and invigorating action.
It protects the skin from external agents,
prevents and cures skin imperfections and rebalances pH.
Natural active ingredients content are:
Organic virgin argan oil - nourishing, antioxidant, improves skin elasticity, emollient,

toning, cell regenerating, rebalances skin ph, fluidifies sebum, strengthens the skin's immune

defenses, with sun protection factor (carotenoids).

Organic maple syrup - nourishing, cell regenerating, moisturising.




Organic beeswax - filmogenic, antioxidant.



Instruction for use:
After the application of Bio Vita Anti-Age Toner in the morning.
After the face cleansing in the evening (after any face cleansing during the day).
As a massage and finishing cream for professional and home treatments.
It's an excellent base for makeup.
Packaging:
For sale
For professional use

250 ml - code 81022




500 ml - code 81025



Leave a comment