Oil For Beauty Massage
Blend 100% vegetable, rich in noble and beauty oils as argan, baobab and rosehip.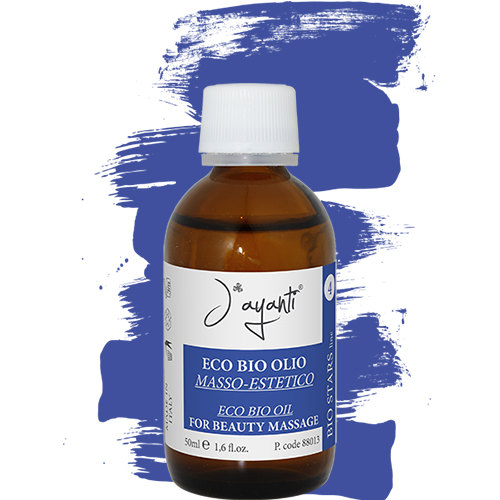 Suitable for all skin types.
A mixture of oils with emollient, nourishing, regenerating, anti-aging and protective properties
that, thanks to their fluid consistency, allowing a long massage.
Fragrance-free.
Natural active ingredients content are:
Organic virgin argan oil - nourishing, antioxidant, improves skin elasticity, emollient,

toning, cell regenerating, rebalances skin ph, fluidifies sebum, strengthens the skin's immune

defenses, with sun protection factor (carotenoids).




Organic baobab oil - natural SPF, elasticizing, smoothing, emollient, antioxidant, nourishing.




Avocado oil - nourishing, moisturizing, emollient.




Jojoba oil - moisturing, emollient, soothing.




Rosehip oil - astringent, tonic.



Instruction for use:
For full body and face professional massage.
Daily after bath or shower, preferably preceded by a body cream.
Mixed with Jayanti eco organic essence.
Packaging:
For professional use

50 ml - code 88013

500 ml - code 88011

1000 ml - code 88012
Leave a comment