Natural Essences
Essences with therapeutic properties.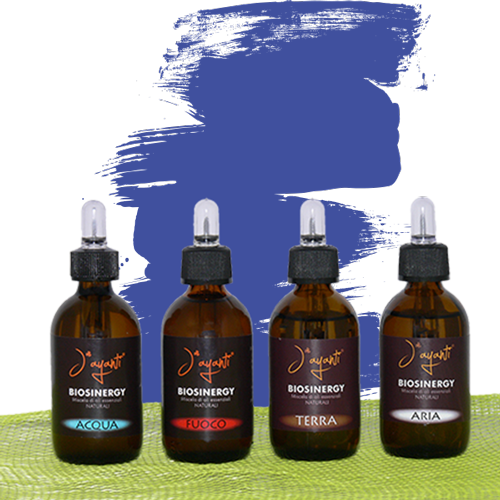 Suitable for all skin types.
In the ongoing research and development of natural and organic products with very high 
efficiency, Jayanti is pleased to introduce a new line of Bio Synergy, 4 Mix of first quality 
natural essences designed to satisfy even the most demanding customers. 
Thanks to the 
therapeutic properties of essential oils and its new and special scents, are to be considered real 
massage adjuvants.
Biosinergy properties:
Biosinergy Water: 

sweet, enveloping and relaxing essence.



D

raining and toning properties.



Biosinergy Fire: warm, spicy, rousing and…aphrodisiac essence.

Smoothing and toning properties.



Biosinergy Earth: exciting, vivacious and revitalizing essence.

Draining, revitalizing and anti-aging properties.



Biosinergy Air: fresh, balsamic, rebalancing essence.

Anti-cellulite and draining properties.
Instruction for use: 
To mix with our massage oils.
Packaging:
Biosinergy Water 50 ml - code 89001




Biosinergy Fire 50 ml - code 89011




Biosinergy Earth 50 ml - code 89002




Biosinergy Air 50 ml - code 89012



Leave a comment