Body Candle
Extremely nourishing and protective. Ideal for relaxing, decontracting and hot massage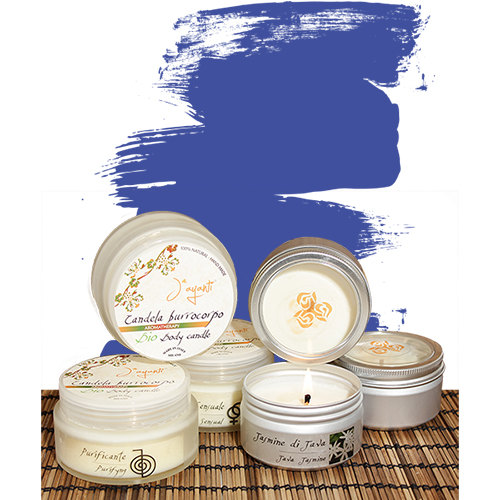 Suitable for all skin types, even the most sensitive skin.
Our organic body candle, not only stimulates the senses and relaxes the body during 
massage, is also an ideal cosmetic. 
Its composition of 100% natural oils and butters, soothes, 
firms and nourishes the skin. 
It can be used hot or cold as a massage oil for the body, or as 
a aromatherapy candle to scent the room. 
Our range of body butters makes massages more 
enjoyable leaving the skin hydrated and velvety , thanks to the fine scents of our creation.
Natural active ingredients content are:
Organic shea butter - antioxidant, emollient, with sun protection factor, improves skin 

elasticity, firming.

Organic extra virgin olive oil - nourishing, filmogenic, antioxidant, improves skin elasticity, toning.




Avocado butter - nourishing, moisturizing, emollient.




Jojoba oil - moisturing, emollient, soothing.




Babassù oil - antioxidant, desactivators of free radicals.




Organic beeswax - filmogenic, antioxidant.



Instruction for use: 
For professional and not professional massage.
Packaging: 
For sale - 100ml




Java jasmine - code 6060NV
Pink sugar- code 6061NV
Apple / Cinnamon - code 6062NV
Mango / Citrus - code 6063NV
Almond - code 6065NV
Sensual rose - code 6066NV
Himalayan white musk - code 6067NV
Sahara argan - code 6068NV
Candy - code 6070NV
Sicily citrus groves - code 6071NV
Spring awakening - code 6073NV
Ambreine - code 6074NV
Indian tea- code 6075NV
Harmonic fusion - code 6076NV
Parfued talc - code 6090NV
Donkey milk - code 6091NV




Regenerating for the mind - code 6079 (AROMATHERAPY)
Harmony of the senses - code 6080 (AROMATHERAPY)
Ideal for the good humor - code 6081 (AROMATHERAPY)
Sensual - code 6082 (AROMATHERAPY)
Purifying - code 6083 (AROMATHERAPY)
Relaxant - code 6084 (AROMATHERAPY)
Leave a comment