Strengthening And Nourishing Shampoo
It gently cleans without aggression, can be used daily during pregnancy, when the hair could be weaker and subject to fall.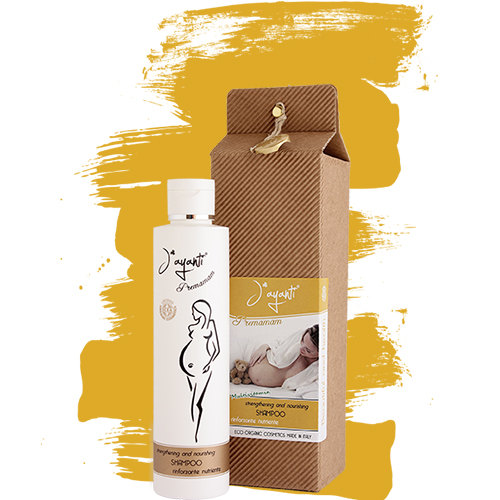 Suitable for pregnant women and during breastfeeding.
This nourishing shampoo is created for all the changes of hair in pregnancy, it gently cleans 
without aggression (it doesn't produce foam) leaving hair and scalp really hydrated, soft and 
shiny. 
It's special formulation makes your hair healthy and stronger.
Thanks to the high quality ingredients and non-aggressive washing principles contents, this 
shampoo can be used for daily washing, even during pregnancy, when the hair could be weaker 
and subject to fall.
Natural active ingredients content are:
Organic argan oil - nourishing, antioxidant, improves skin elasticity, emollient, toning, cell 

regenerating, rebalances skin ph, fluidifies sebum, strengthens the skin's immune defenses, 

with sun protection factor (carotenoids).

Organic peppermint extract - refreshing, anti-inflammatory, decongestant.




D-panthenol - moisturing, emollient, soothing.




Organic tocopherols - antioxidant, catalysts, emollient.




Ginseng extract - protective, refreshing, redensifying, anti-inflammatory.



Instruction for use:
Use it at every hair wash during pregnancy and breastfeeding.
(This product, being natural, does not produce foam).
Packaging:
For sale
Leave a comment