Essential Body Cream
Rich in organic ingredients, moisturizes and tones in depth.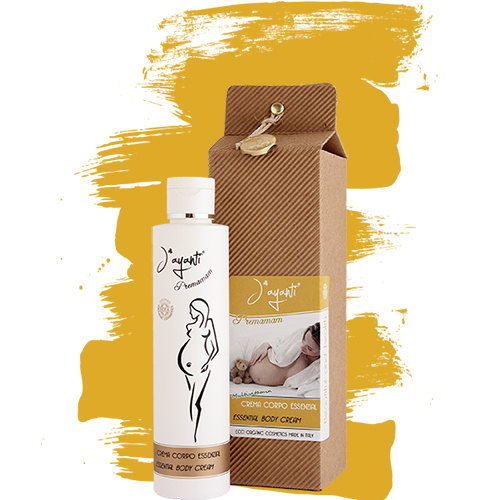 Suitable for pregnant women and during breastfeeding.
This is a very hydrating and toning body cream rich in organic argan oil and other organic 
nourishing ingredients. 
It has anti oxidant and protective properties and improves skin 
elasticity, so it prevents stretch marks of pregnancy.
Rich in organic E vitamin, it has strong anti oxidant action, great for preventing the signs of 
aging.
Natural active ingredients content are:
Organic argan oil - nourishing, antioxidant, improves skin elasticity, emollient, toning, cell 

regenerating, rebalances skin ph, fluidifies sebum, strengthens the skin's immune defenses, 

with sun protection factor (carotenoids).

Organic maple syrup - nourishing, cell regenerating, moisturising.




Organic shea butter - antioxidant, emollient, with sun protection factor, improves skin 

elasticity, firming.
Instruction for use:
Apply after every shower or bath massaging until completely absorbed, during pregnancy and 
breastfeeding.
Packaging:
For sale
Leave a comment