Nutritive Face Lotion
Lotion with fluid and very light texture, ideal to regenerate skin.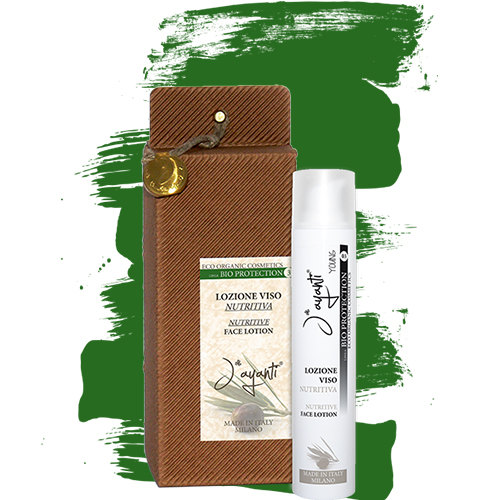 Suitable for alipic-dehydrated skin, sensitive and affected by couperose skin, irritated, aging, and senescent skin, babies and children skin.
Lotion with fluid and very light texture thanks to guar gum.
Organic extravirgin olive oil
protects from external agents (wind, cold…), is emollient, antioxidant and sebum restoring;
the synergy with other organic active ingredients like squalane gives filmogenic, moisturizing
and regenerating properties.
It has high absorbability.
Natural active ingredients content are:
Organic extra virgin olive oil - nourishing, filmogenic, antioxidant, improves skin

elasticity, toning.

Organic maple syrup - nourishing, cell regenerating, moisturising.




Organic shea butter - antioxidant, emollient, with sun protection factor, improves skin

elasticity, firming.

Modified guar gum - emollient.



Instruction for use:
After the application of Bio Protection Delicate Toner in the morning.
After the face cleansing in the evening (after any face cleansing during the day).
It's an excellent base for makeup.
Packaging:
For sale
Leave a comment