Delicate Toner
It regulates keratinisation, soothes irritation and promotes cell regeneration.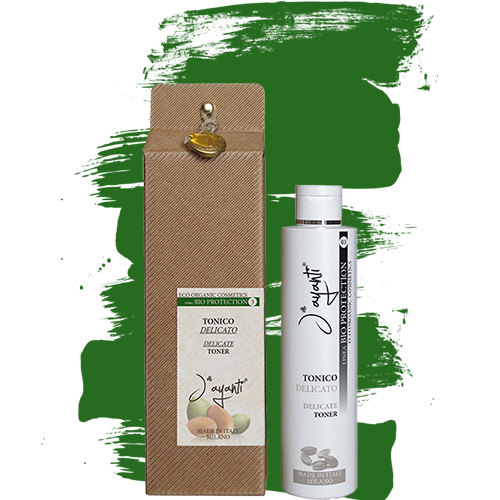 Suitable for alipic-dehydrated skin, sensitive and affected by couperose skin, irritated, aging, and senescent skin, babies and children skin.
A tonic lotion combining organic argan oil, pure organic aloe vera gel and organic nourishing
active ingredients to complete the cleansing routine, rebalance skin pH and prepare the skin
to receive treatments.
It provides a pore-tightening, anti-oxidising, anti-aging, moisturising,
restructuring, elasticising and invigorating action.
It regulates keratinisation, soothes irritation
and promotes cell regeneration.
Natural active ingredients content are:
Organic virgin argan oil - nourishing, antioxidant, improves skin elasticity, emollient,

toning, cell regenerating, rebalances skin ph, fluidifies sebum, strengthens the skin's immune

defenses, with sun protection factor (carotenoids).

Organic aloe vera gel - moisturising, protective, a carrying agent of active ingredients, cell

regenerating, astringent, acidifies the ph, has cicatrizing properties, soothing.

Organic maple syrup - nourishing, cell regenerating, moisturising.




D-panthenol (PRO VIT B5) - a component of collagen, maintains skin elasticity and tonicity.



Instruction for use:
Shake well before use, few drops on cotton pads and massage gently your
face before applying face cream.
To complete the cleansing made with cleasing cream.
To remove the scrub and face mask for professional and home treatments, always on cotton
pads.
Packaging:
For sale
For professional use

250 ml - code 81102

500 ml - code 81105



Leave a comment