Eco Bio Sun Oil
Low protection tanning and anti-aging oil.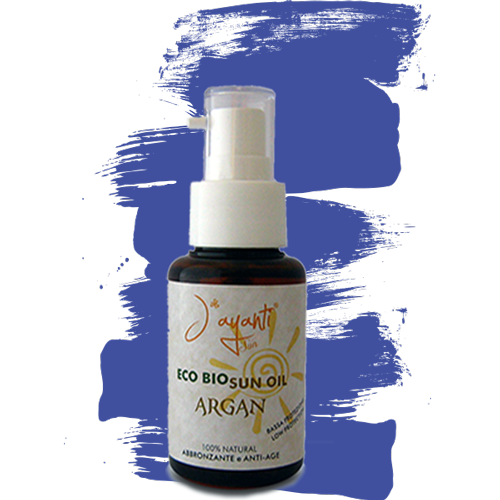 Suitable for tanned skin.
New low protection tanning oil, organic argan oil-based with beta-carotene.
Thanks to the 
emollient, nourishing and film-forming properties of argan oil and other organic oils content, 
such as jojoba and avocado oil, your tan will have a color "gold" and the skin will be elastic and 
velvety, the beta-carotene content activates and strengthens the tan. 
Constant use prevents the 
occurrence of blemishes caused by prolonged sun exposure (photoaging).
Natural active ingredients content are:
Organic virgin argan oil - nourishing, antioxidant, improves skin elasticity, emollient, 

toning, cell regenerating, rebalances skin ph, fluidifies sebum, strengthens the skin's immune 

defenses, with sun protection faok.

Organic extra virgin olive oil - nourishing, filmogenic, antioxidant, improves skin elasticity, 

toning.

Avocado oil - nourishing, moisturizing, emollient.




Jojoba oil - moisturing, emollient, soothing.




Beta carotene - stimulating and intensifier.



Instruction for use: 
On the entire body 30 minutes before sun exposure and whenever the skin 
gets dry, after each bath.
Packaging:
For sale
Leave a comment